Mothers Day Chocolate Gift, Chocolate Truffles for Mom, Chocolate Gift, Dark Chocolate, Mothers Gift, Gift for Mother, 1st Mothers Day Gift
Mothers Day Chocolate Gift, Chocolate Truffles for Mom, Chocolate Gift, Dark Chocolate, Mothers Gift, Gift for Mother, 1st Mothers Day Gift
Regular price
$0.00 USD
Sale price
$39.95 USD
Unit price
per
Sale
Sold out
Introducing our exclusive Mother's Day Keepsake Tin of Chocolate Truffles, a luxurious and indulgent treat that's perfect for celebrating the special woman in your life.
This stunning keepsake tin is personalized with a beautiful floral frame and the words "Happy Mother's Day" to make your gift even more special. But that's not all - you get to personalize the lid with your mother's name and a heartfelt sentiment of love, such as "Love always" or "Forever in my heart".
Inside the tin, you'll find a delectable assortment of handmade chocolate truffles that are crafted with the finest ingredients to ensure the most exquisite flavor and texture. From rich dark chocolate to creamy milk chocolate and delicate white chocolate, every bite is a decadent delight that your mother will savor and cherish.
Whether you're looking for a unique and thoughtful gift for your own mother, grandmother, or any special woman in your life, our Mother's Day Keepsake Tin of Chocolate Truffles is sure to impress. It's a one-of-a-kind treasure that she'll love to display and enjoy, reminding her of your love and appreciation for years to come.
About Our Truffles
Our artisan truffles have been manufactured by the same New England family since 1915 using traditional recipes to deliver a truly amazing truffle. Using only the finest ingredients such as cocoa butter and ethically sourced cocoa our truffle packages are sure to deliver the perfect taste and texture even to the most discerning of palates.
Description
Whatever the occasion or whoever you want to treat, then our handmade chocolate truffles with accompanying personalized message tins make the perfect gift.
Our scrumptious bite sized truffles are hand made in New England and make a truly decadent treat. We truly believe you won't have tasted chocolates this nice.
Truffle Selection
Raspberry Truffle with Dark Chocolate
Nature's own symphony plays for you with the classic pairing of ripe raspberries and chocolate. The melody of a summer's day comes alive with a taste of this refreshing berry delight…birds chirping, the rustle of leaves in the breeze, and children laughing in the afternoon sun. Enjoy the concert.
Milk Chocolate Truffle
Classic and timeless, this chocolate is no Plain Jane. Just like the "little black dress," its understated style is one of life's little luxuries that we encourage you to enjoy with abandon. Simple, chic and never out of fashion, this truffle proves that less truly is more.
Caramel Milk Chocolate Truffle
Hop on your bike and ride down Main to the corner candy store. In the window, you'll see pop standing over the copper kettle making a fresh batch of caramel. This time-proven classic will make you feel like a kid again with its milk chocolate shell and soft, buttery center. Go ahead, eat two...Mom will never know.
Irish Cream Milk Chocolate Truffle
It's a long way to Ireland, but this truffle will whisk you off to the land of the shamrock. You'll be warmed by the smooth liqueur flavor as the cream envelops your tongue with nuances of vanilla, caramel, and honey. To quote an Irishman, one taste and you will have "miles and miles of Irish smiles for many golden happy hours.
Tiramisu Milk Chocolate Truffle
Buon Appetito! In all of Italy, not much rivals the perfection of this traditional Tuscan dessert. Brighten any day with this light mocha-flavored, cream-kissed with the taste and aroma of an authentic espresso. La dolce vita was never so sweet.
Orange Truffle with White Chocolate
Warm, tropical sun and some of nature's magic create beautiful, succulent oranges and the finest cacao. Lush, ripe and always pulp-free, let the premium white chocolate melt on your tongue to reveal the sweet tang of a Valencia. In life, a little rain must fall, but this grand orange is sunshine on a cloudy day
Share
View full details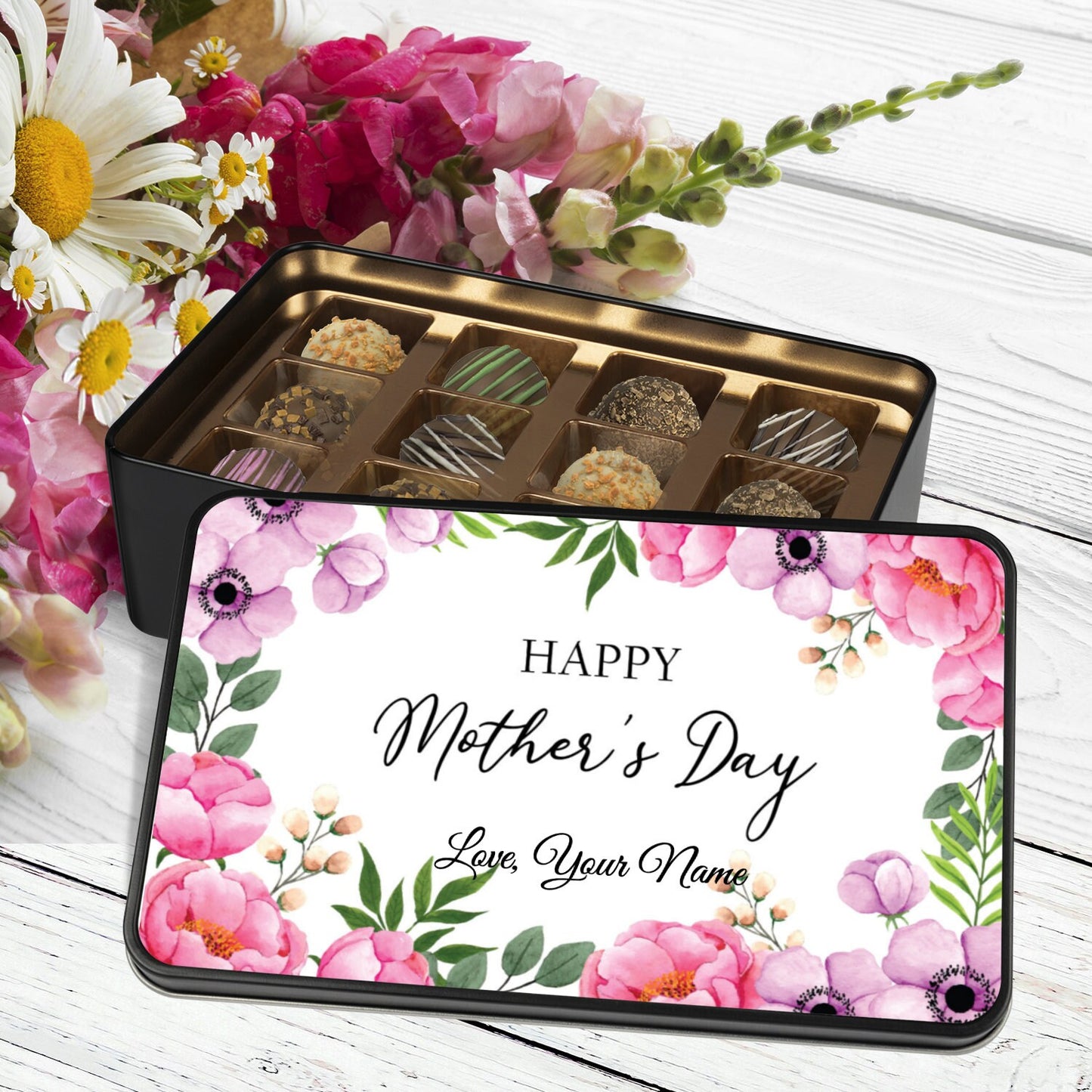 This review has no content.
This review has no content.
This review has no content.
This review has no content.
Great customer service and fast shipping....
Great customer service and fast shipping. The box was so cute and the chocolates were delicious.